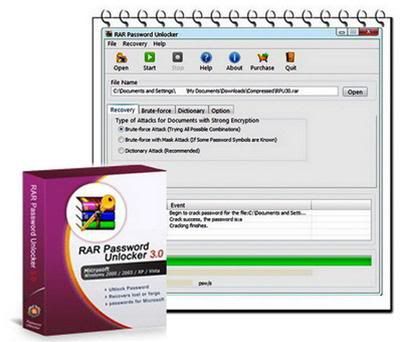 Software - Rar Password Unlocker 3.2
RAR Password Unlocker is to easily and safely recover the password for RAR archives for you to open and extract the files in the archive. It supports RAR files of all versions created using WinRAR. The best in it is it's not only easy to use but powerful in functions! It is super easy to use that even a new user can fully control it in less than a minute. It is far different from other similar programs with multiple functions integrated in one.
This is a little tool solely for recovering RAR passwords. With simple interfaces and clear instructions to guide you through the whole process of using it, you are fully easy to use it.
Additionally, the manipulation issimple too. With 3 simple steps to enter full path of the RAR archive, select an attack type and start the processing will help you start the program to recover the password. Both integrated User Manual and online guide are available for you to refer to if run into any problems while using it.

The program is powerful in functions, too. It can not only recover simple passwords in no time but is able to recover long passwords with a speed over 220,000 passwords per second! The dictionary attack makes it customizable for users to solve their specific problems with a specific solution! This is rarely available and is the highlight of it, for you can create a dictionary file according to the password features to let it base on!

The program also makes it possible for you to define a password mask, which is a set of password traces, for the program to reduce the calculation load, increase the recovering speed and save time. It also allows you to set the computer CPU priority to increase the performance, which is also with a goal to save time.

Furthermore, the application comes with the possibility to resume the processing from the last session whenever it is stopped accidently.



Here are some key features of "Rar Password Unlocker":



Recover long passwords
Support all versions of RAR archives
Easy to use with less than a minute to get familiar with the program
Powerful with three attack modes
Allowed to offer password clues to the program to reduce the calculation, time-saving
Customizable for users can define a dictionary for the program to base on
Allowed to set the computer CPU priority
Auto-save the project every after a period of time
Support to resume the processing project if the process is accidentally stopped last time
Allowed to shutdown computer after the processing finishes
Download Link :

Mirror