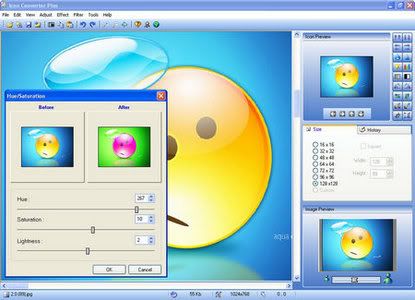 Software - PC Icon Converter Plus v4.8 Final
Icon Converter Plus enables you to convert Windows BMP, DIB, GIF, JPG, JPE, JPEG, TIF, TIFF, CPT, WMF, EMF, PNG, PCX, JP2, JPC, J2K, TGA, RAS, ICO, CUR, ANI image formats into Windows icons.Make capture from your screen or applications with Capture Screen and convert it into icon or image. The application has wizard and command line interfaces, making it simple to use. You can find many images on the Internet and convert them toicons for use on your web pages, in applications and much more.
Icon Converter Plus can completely support XP Alpha Channel icons, so you can easily convert images to the wonderful semi-transparent icons.
Apply image filtering Mirror Down in Top, Mirror Top in Down, Mirror Right in Left, Mirror Left in Right, Colorize, Invert, Grayscale, Black and White, Lighten, Darken, X-Blur, Y-Blur, Flip Horizontal, Flip Vertical, Set Transparent Color automatically or manually, Crop on output icons or pictures. Furthermore, this software will enable you to compress the picture in order to make an icon exactly the way you need it.Plus, change color resolution and size to create customizedicons from your images. Supporting for making transparent icons and user can choose which color to make transparent. Support different colors including Monochrome (1 bit), 16 Colors (4 bits), Grayscale (8 bits), 256 Colors (8 bits), True Color (24 bits) and XPAlpha Channel (32 bits) and different colors including 16x16, 24x24, 32x32, 48x48, 64x64, 72x72, 96x96, 128x128 and custom size.



Key features:



Create smooth semi-transparent icons
Import BMP, DIB, RLE, GIF, JPG, JPE, JPEG, TIF, TIFF, CPT, WMF, EMF, PNG, PCX, JP2, JPC, J2K, TGA, RAS, ICO, CUR, ANI image formats
Capture from your screen or applications
Export ICO, BMP, GIF, JPG, TIF, WMF, EMF, PNG, PCX, J2K, TGA, RAS files
Browse images in the thumbnail mode
Apply 6 filters to your icon such as Sharp, Blur, Add Noise, Diffuse and etc
Add 14 effects to your icon such as Mirror, Flip Horizontal and Vertical, Rotate 90°, 180° and Arbitrary, Perspective, Skew, Gray Scale, Black and White and etc
With 12 adjustment commands such as Auto Levels, Auto Contrast, Brightness, Contrast, Gamma Channel, RGB Channel, Invert, Colorize, Equalize, Threshold, Posterize and etc
Support 100% XP Alpha Channel icons
Support different colors including Monochrome (1 bit), 16 Colors (4 bits), Grayscale (8 bits), 256 Colors (8 bits), True Color (24 bits) and XPAlpha Channel (32 bits)
Keep history events and allows you to Undo/Redo
Copy your icon or image from/to clipboard
Select icon background color to replace transparent color automatically or manually

Homepage -

http://www.program4pc.com/icon_converter.html





Download Link :





Mirror