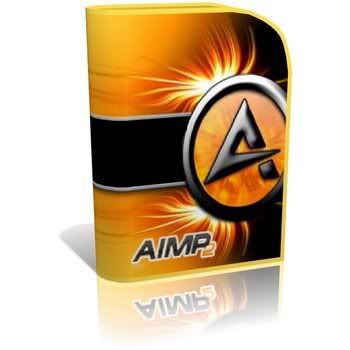 AIMP 2.60 Build 520 Final Portable
AIMP - this is a young and rapidly evolving audio player from the national developer. Built on the basis of engine BASS. Supports most popular audio formats and playlists, has a pleasant appearance with skins support, has some built-in utilities for recording, converting audio formats and ripping CDs.
The main features of AIMP:
"Support for a large number of formats for music:
MP1, MP2, MP3, MPC, MP, AAC, AC3, OGG, FLAC, APE, WavPack, Speex, WAV, CDA, WMA, S3M, XM, MOD, IT, MO3, MTM, UMX

"The great functionality and user-friendly interface
"Creation of bookmarks and playback queue
"18-band equalizer and built-in sound effects
Reverb, Flanger, Chorus, Pitch, Tempo, Echo, Speed
For the best quality!

"Working with several playlists
Play one - working with other

"Support modules extend the functionality
You can add new utils or extend already existing

"Support for multi-user mode
Several users are working with one computer? No problem!

"Multilingual interface
"Hot Keys
Configure local and global hotkeys to your taste!
Search files on all public playlists

"Flexible program settings
"Internet radio
Listen to and record radio stations in formats OGG / WAV / MP3

"Viewer list of Internet radio stations
Review directories Shoutcast and Icecast Services
Search and zakruzka album covers from the Internet

"Alarm clock
"Turn Off Computer
You can sleep under favorite music, turn off your computer by installing a timer or by the end of play
You can easily edit tags of audio files and rename files group, sort out a template or use values tags to a group of files
Represents the organizer of music files, which enables you to easily organize your music, set evaluation Listened Tracks, to conduct statistics play.



Changes in the AIMP 2.60 Build 520 Final:


Added 3 new skins

* Updated localization
* Updated help files
- Fixed minor bugs

Homepage:

http://aimp.ru





Download Link :





Mirror